The Ideal Fossil Watch for Women, Tailored to Unique Lifestyles
When finding the ideal timepiece, women are not just looking for a watch that tells time; they seek a stylish accessory that complements their unique lifestyles.
Fossil Watch, renowned for its blend of fashion and functionality, offers a range of watches designed specifically for women with distinct tastes and preferences.
From the boardroom to the gym, from casual outings to formal events, a Fossil watch caters to every woman's individuality.
In this article, we will explore the fascinating world of Fossil watches and how they are tailored to suit the diverse lifestyles of women, ensuring both style and substance.
So, whether you're a trendsetter, an adventurer, or a minimalist, join us on this journey to discover the ideal Fossil watch that perfectly matches your lifestyle.
The Evolution of Fossil Watches for Women
Over the years, Fossil has been at the forefront of watchmaking, consistently adapting to women's ever-changing needs and preferences. The evolution of Fossil watches for women is a testament to their commitment to combining style and functionality.
Style Meets Versatility. Fossil understands that women lead dynamic lives, juggling multiple roles and activities. Their watches have evolved to cater to these diverse lifestyles. From sleek and minimalist designs for the modern professional to bold and vibrant timepieces for the fashion-forward trendsetter, Fossil offers a wide range of styles to match any taste.
Embracing Technology. In the digital age, Fossil has embraced technological advancements without compromising style. They have integrated smartwatch features into their women's collections, combining traditional watch aesthetics with modern functionality.
Attention to Detail: Fossil's dedication to craftsmanship and attention to detail is evident in every watch they create. From intricately designed dials to carefully selected materials, each timepiece is a work of art.
Sustainability and Responsibility: In recent years, Fossil has made significant strides toward sustainability and responsible manufacturing. They have introduced eco-friendly materials, such as recycled plastics and ethically sourced leathers, to their watch collections.

Why Choose Fossil Women's Watches?
Fossil women's watches have earned a stellar reputation in the world of timepieces, and there are several compelling reasons why they continue to be a popular choice among women.
Quality of Fossil watch materials
One key factor that sets Fossil watches apart is their commitment to using high-quality materials. Fossil meticulously selects premium materials, such as stainless steel, genuine leather, and durable synthetic materials, ensuring their watches look exquisite and withstand the test of time. By prioritizing quality, Fossil guarantees that each watch is a long-lasting investment that can be cherished for years.
The balance of tradition and innovation
Fossil strikes an impeccable balance between honoring traditional watchmaking craftsmanship and embracing innovation. While their watches exude classic elegance and timeless appeal, they also incorporate modern elements and innovative features to enhance functionality. This blend of tradition and innovation makes Fossil watches versatile companions, suitable for formal occasions and everyday wear.
Diverse style and options
Fossil understands that style is subjective and personal. Hence, they offer an impressive range of styles and design options to cater to diverse tastes. Whether you prefer a classic analog watch with a minimalist dial, a sleek and sophisticated digital timepiece, a versatile hybrid watch combining analog and smart features, a sporty chronograph for active lifestyles, or an elegant and luxurious design adorned with crystals, Fossil has a watch that suits your unique style.
Smartwatches and their features
Fossil has successfully integrated smartwatch technology into its women's watch collections. Their Fossil smart watch for women offers a multitude of features that go beyond timekeeping. From fitness tracking and heart rate monitoring to smartphone notifications and music control, Fossil smartwatches empower women to stay connected and lead active, well-rounded lives.
With user-friendly interfaces and compatibility with popular mobile platforms, Fossil smartwatches seamlessly merge technology with style, providing a convenient and fashionable way to stay connected.

Top 10 Fossil Watches for Women
Introducing our curated selection of the top 10 Fossil watches for women, each showcasing exquisite design and exceptional features to suit various tastes and lifestyles.
Perfect for the Elegant Professional
This watch is ideal for the sophisticated professional who values style and functionality. Its rose gold-tone stainless steel bracelet and crystal embellishments exude elegance, while the multifunction dial, displaying the day, date, and 24-hour time, caters to their busy lifestyle.
Regular Price: $174.99
Perfect for the Modern Trendsetter
The Fossil Gabby Silver Stainless Steel Quartz watch suits the fashion-forward individual. Its sleek design, minimalist silver-tone dial, and stainless steel bracelet complement their contemporary style and keep them on-trend.
Regular Price: $149.99
Perfect for the Minimalist Explorer
This watch fits the minimalist adventurer well. Its clean and compact design and slim leather strap ensure comfort during outdoor activities while maintaining a stylish look. Its quartz movement guarantees accurate timekeeping for their on-the-go lifestyle.
Regular Price: $134.99
Perfect for the Classic Elegance Enthusiast
The Fossil Scarlette Micro Silver Dial Stainless Steel Quartz watch appeals to those who appreciate timeless elegance. This silver Fossil watches for women classic boast of a silver-tone dial and stainless steel bracelet effortlessly elevate its refined style, making it a top choice for formal events and sophisticated gatherings.
Regular Price: $139.99
Perfect for the Glamorous Diva
This watch is a must-have for those who love all things glamorous. With its pink dial adorned with crystal accents, the Fossil Carlie Mini Crystals Accents Pink Dial watch exudes femininity and glamour, adding a touch of sparkle to any ensemble.
Regular Price: $149.99
Perfect for the Chic Trendsetter
The Fossil Gabby Blue Dial Stainless Steel Quartz watch suits the individual with a vibrant and fashion-forward personality. Its striking blue dial and stainless steel bracelet add a pop of color and contemporary style, making it a standout accessory.
Regular Price: $159.99
Perfect for the Refined Fashionista
This watch is designed for those who value sophistication and refinement. The Fossil Gabby Crystal Accents White Dial Leather Strap Quartz watch features a white dial with crystal accents paired with a comfortable white leather strap, creating a refined and elegant look.
Regular Price: $129.99
Perfect for the Active Adventurer
This black Fossil watch for women is an excellent choice for individuals with an active lifestyle. Its ceramic case and bracelet provide durability, and the water resistance of up to 100 meters makes it suitable for outdoor activities and sports.
Regular Price: $239.99
Perfect for the Timeless Classic Lover
This watch caters to those who appreciate classic designs. The Fossil Jacqueline Two-Tone Stainless Steel Black Dial Quartz watch showcases a timeless elegance with its two-tone stainless steel bracelet and black dial, creating a sophisticated and versatile accessory.
Regular Price: $159.99
Perfect for the Luxurious Romantic
The Fossil Stella Crystal Accents Open Heart Brown Dial Automatic watch is a captivating choice for those with a taste for luxury and romance. Its enchanting open-heart design on a brown dial, revealing the intricate automatic movement, adds a touch of allure and elegance to any outfit.
Regular Price: $219.99
Each of these Fossil watches for women offers unique features and designs that cater to different lifestyle needs, ensuring a perfect choice for every woman's style and preferences.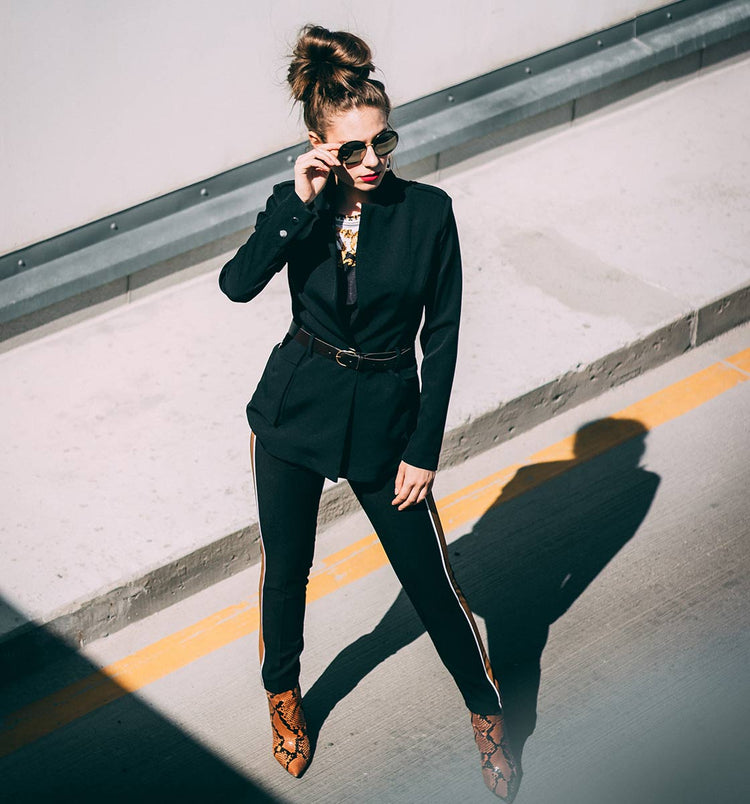 Where to Buy Fossil Watches for Women
Finding the perfect Fossil watch for women is now easier than ever, with a wide range of options tailored to suit different lifestyles. From elegant designs for professionals to trendy styles for fashion enthusiasts, Fossil offers something for everyone. After exploring the top Fossil watches for women and understanding their unique features and suitability, it's time to make your purchase.
For an exceptional shopping experience, you can get access to a wide array of selection of Fossil watch for women from Nubo Watches. As a small family-owned watch show based in Texas, Nubo Watches is dedicated to providing the best customer service and ensuring your satisfaction.
With our Nubo Care Package, every purchase is backed by our commitment to your happiness. If for any reason you are not satisfied, we offer a money-back guarantee.
Don't miss the opportunity to own a stunning Fossil watch that complements your lifestyle and reflects your style. Visit Nubo Watches today and discover Fossil watches for women on sale today!